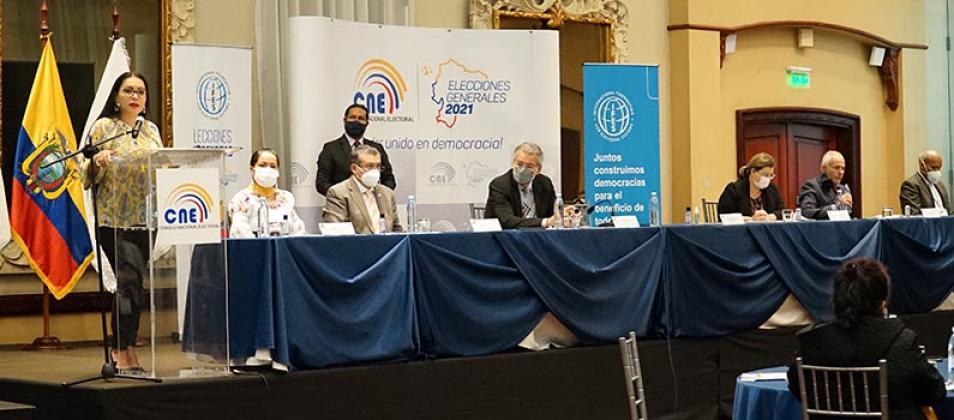 IFES and Ecuador's National Electoral Council Host IT and Cybersecurity Lessons Learned Following 2021 Elections
Ecuadorians went to the polls in February and April 2021 for general elections. Given a string of alleged cyberattacks against Ecuadorian government institutions in the past few years, information technology (IT) and cybersecurity were electoral priorities for the National Electoral Council (CNE).
On July 1 and 5, the International Foundation for Electoral Systems (IFES) and CNE held a joint lessons learned workshop in Quito to discuss the success of efforts to address these priorities.

The first day of the event brought together over 50 directors, heads of IT and other representatives from all 24 of the CNE's provincial offices to examine, discuss and provide feedback on the procurement, engagement and execution of the CNE's election cybersecurity framework. This covered logistics, operations, IT systems and infrastructure, cybersecurity policies and procedures, chains of command and communications, and systems training for personnel and technical support services. The second session built on the consolidated feedback from the provinces and engaged high-level specialists and managers from the CNE's national IT directorate to distill recommendations for future electoral processes.
Based on the findings of the exercise, IFES and the CNE are drafting a final report that will formalize recommendations and develop a roadmap for short-, medium- and long-term actions to include in the CNE's new Institutional Strategic Plan.

IFES has been working with the CNE on electoral cybersecurity issues since October 2020 as part of the "Building Technical Capacity and Public Confidence in Ecuador's Electoral System" program funded by the United States Agency for International Development (USAID). Under this project, the two institutions have assessed and addressed critical cybersecurity vulnerabilities ahead of and directly following the 2021 elections. Through the lessons learned activity, IFES and the CNE will define post-election priorities that can be addressed with IFES support and beyond the project.
Published on August 6, 2021.