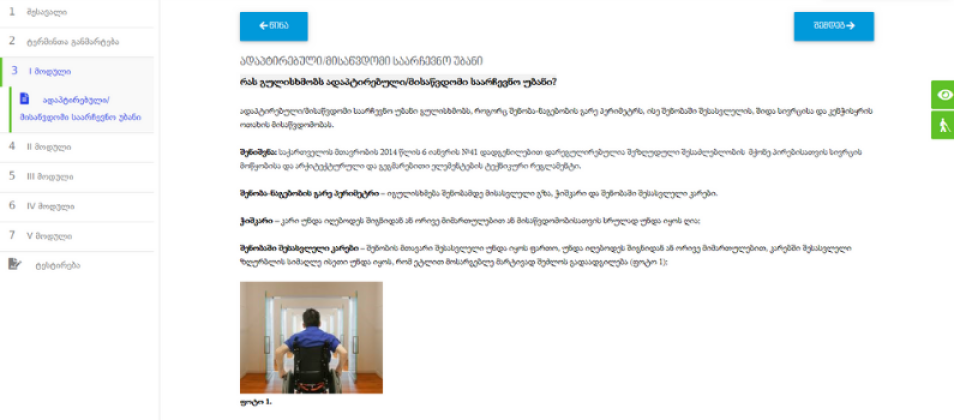 IFES Inclusive Virtual Learning Course Prepares Georgian Electoral Officials for Inclusive Participation
Written by Kailee Smart, Inclusion Program Associate.
Globally, an estimated one billion people have a disability, according to the World Report on Disability. While the United Nations Convention on the Rights of Persons with Disabilities (CRPD) guarantees political rights to persons with disabilities (PWD), barriers and negative stereotypes remain that limit inclusive political participation around the world. Election administration staff may be inexperienced or untrained on the rights of persons with disabilities.
The International Foundation for Electoral Systems (IFES), with support from the Central Election Commission (CEC) of Georgia, has developed a new distance learning course targeting this barrier in Georgia. The course, "Support Independent Participation of Persons with Disabilities in Elections," aims to raise awareness of CEC staff on supporting the independent rights of persons with disabilities in elections.
While the World Health Organization estimates that 15 percent of the world's total population has a disability, approximately 100,113 Georgians have a disability, according to the latest census conducted in 2014 in Georgia. A survey completed by the CEC after the parliamentary elections in October 2020 showed the overall turnout of voters with disabilities in Georgia. The survey concluded that 3,663 voters with disabilities participated in the first round of elections and 1,105 in the second round. In light of the survey's finding that fewer than half of voters with disabilities participated in the elections, proper training and education of CEC staff are crucial to ensuring the equal rights of people with disabilities during elections.
The course covers five vital topics: adapted/accessible polling stations; necessary procedures for requesting and ensuring accessible polling stations and equal access; procedures of PWD voter participation in elections; proper etiquette; and developing PWD voter turnout statistics. Once the course is complete, the final test includes 29 questions related to the different modules to test the knowledge gained by the staff. A total of 1,366 participants registered for the course, and 1,133 participants received completion certificates.
The course is currently available in Georgian on the Election Administration of Georgia's website.
Published on March 9, 2022.