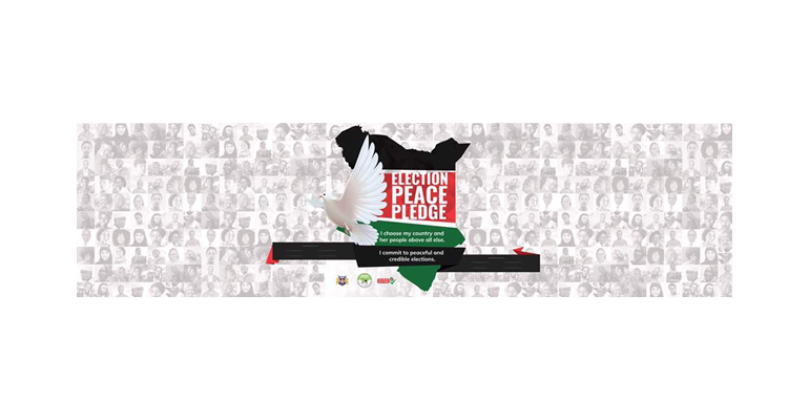 Kenyans Sign Peace Pledge Ahead of August Polls
Through its U.S. Agency for International Development-funded "Kenya Electoral Assistance Program" (KEAP), the International Foundation for Electoral Systems (IFES) supported the Independent Electoral and Boundaries Commission (IEBC) to partner with the Ethics and Anti-Corruption Commission and Kura Yangu Sauti Yangu to host a three-day "National Elections Conference" (NEC) with additional collaboration from other institutions and development partners. Held June 12-14, 2017 at the Kenyatta International Convention Centre in Nairobi, the conference focused on "working together toward a credible and peaceful general elections 2017."
One of the key objectives of the conference was to motivate Kenyan citizens and key stakeholders, such as political leaders, to publicly commit to credible and peaceful elections. To work toward this goal of consolidating peacebuilding and democratization efforts ahead of the August 2017 general elections, IFES developed a peace pledge initiative for the NEC.
[caption caption="Peace Pledge Wall being signed by IEBC Chair Wafula Chebukati." align="left"]
[/caption]
As part of the pledge, IFES produced a wall banner for individuals to sign and openly pledge their commitment to maintain peace throughout the electoral period. IFES worked with the IEBC's Youth Coordinating Committee to design the peace pledge banner through a participatory process to ensure that it was inclusive of all Kenyans.
IFES also worked with the IEBC to develop a written peace pledge for political leaders to sign and publicly commit to peaceful elections. The language for the election peace pledge was based on IFES' recent research to ensure it was appropriate for the Kenyan context and an effective motivator for peace. Some of the most prominent and influential Kenyan political leaders attended the peace pledge signing ceremony, which was broadcast nationwide with live media coverage so that even those who did not attend the NEC could witness the public commitment to peaceful elections. On behalf of the President Uhuru Kenyatta, Hon. Aden Duale, majority leader of the National Assembly, and presidential candidate Raila Odinga publicly validated their commitment to credible and peaceful elections.
[caption caption="IEBC Chair Wafula Chebukati and Commissioner Dr. Roselyn Akombe with the CEO in front of the peace pledge wall." align="right"]
[/caption]
To complement the electoral peace pledge, IFES produced a corresponding video to spotlight Kenyan citizens' aspirations for a peaceful electoral process by urging them to share what peace means for them. Responses ranged from "living as one" to "safety in the country." These relatable responses highlight the real people in Kenya who are calling for a peaceful electoral process in the country. The video introduced the peace pledge signing ceremony at the NEC and showcased the diversity of Kenyan citizens. IFES is hopeful that these engaging and thought-provoking initiatives, coupled with the peace building campaign, will foster an inclusive and peaceful electoral environment in Kenya.