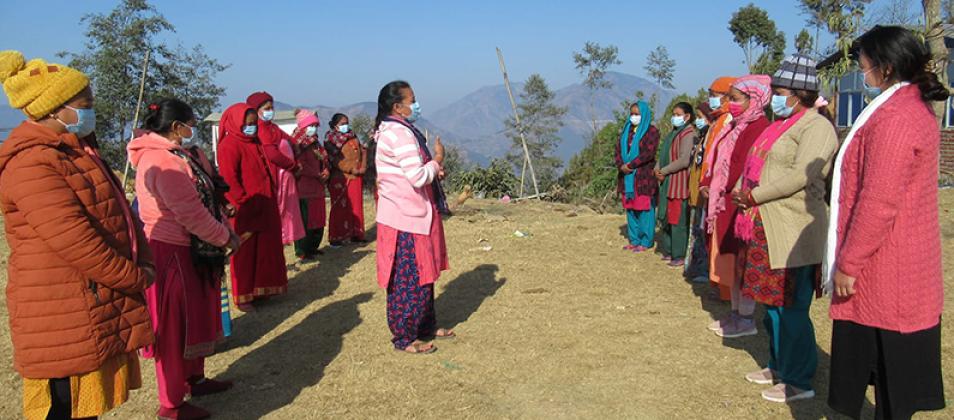 Launching "She Leads" Trainings in Nepal
Unprecedented numbers of women representatives elected at the local level in Nepal are serving their communities after gender quotas led to the election of over 14,000 women in 2017 – the first local elections held in over 20 years. These women, a majority of whom are serving in leadership positions for the first time, are navigating their roles despite encountering challenges working in spaces traditionally dominated by men and those brought on by the COVID-19 pandemic. To empower these elected women with the skills and knowledge to fulfill their roles as community leaders, the International Foundation for Electoral Systems (IFES) and local partner the Center for Dalit Women Nepal (CDWN) launched "She Leads" trainings on February 1, 2021.
Nepal's local election gender quotas require that two of the five members in each ward council must be women and one must be a Dalit woman, meaning approximately 7,000 Dalit women were elected to ward councils in 2017. Dalits belong to the lowest caste in Hindu-based caste societies. Though discrimination based on caste is illegal in Nepal, Dalits often face injustice, violence and prejudice. Nepal's gender quotas provide an important opportunity for Dalit women to demonstrate their leadership abilities and expand Dalit political representation.
The first training module supported 472 elected women representatives to strengthen their leadership, teamwork and public speaking skills. Participants also improved their knowledge of local governance, the roles and responsibilities of ward council members and the importance of women's meaningful participation in decision-making. 
"We used to just follow in the chairperson's footsteps, but this training taught us that as women – especially women from the Dalit community – we should bring attention to issues that affect us unjustly." – Kamala Sarki
The COVID-19 pandemic increased pressure on local governments, as they needed to deploy an effective response; many local elected women representatives were tasked with implementing the response efforts with little guidance. In preparation for these trainings, IFES assessed the impacts of COVID-19 on the women representatives personally and professionally. IFES adapted the curriculum to address some of these challenges by including sessions on building resilience and self-confidence and incorporating health and safety guidelines for participants and trainers. 
Following the first training, "She Leads" program participants are completing post-training community mobilization assignments to share knowledge and practice skills they learned with their families, constituents, fellow political party members and other program stakeholders. The women will then complete two additional beginner training modules, which will cover planning and managing meetings, budgeting and negotiation, before attending a higher-level "She Leads" training. 
"Before, nobody listened when I spoke in municipal meetings because I never prepared my remarks ahead of time. During this training, I learned how to present my opinions effectively so that other members pay attention to what I say. I have found the training so useful and I am eagerly awaiting the next training." – Punyawati Pariyar
"She Leads" participants are using the training to play a more central role within their political parties and display greater leadership in their positions, reporting increased confidence in voicing their opinions in local government meetings and using skills from the training to prepare their meeting remarks. As the 2022 local elections approach, IFES and CDWN are also preparing to support "She Leads" program participants interested in running for another term to gain skills that will better enable them to conduct successful campaigns for reelection. 
IFES' "She Leads Nepal" program is supported by the Australian Government and the Swiss Agency for Development and Cooperation. Visit the "She Leads Nepal"  Facebook page for more on the "She Leads" trainings.
Published on April 30, 2021.