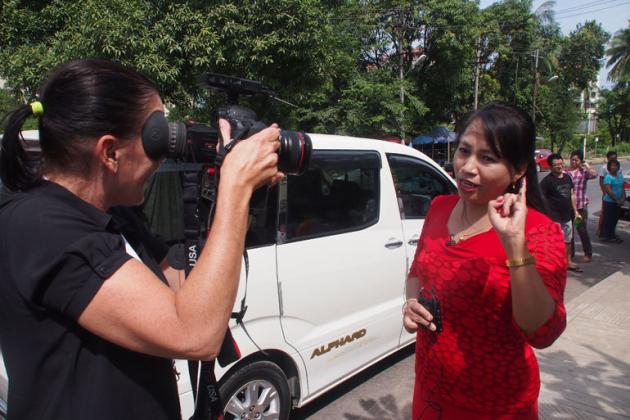 Partnering with Myanmar's Civil Society to Build Democracy
By Adam Gallagher, Senior Editor and Writer
"Civil society is the oxygen of democracy. Civil society acts as a catalyst for social progress and economic growth. It plays a critical role in keeping government accountable, and helps represent the diverse interests of the population, including its most vulnerable groups." – United Nations Secretary-General Ban Ki-moon
A robust and dynamic civil society is a fundamental pillar of any democracy. In young and developing democracies, the active participation of civil society organizations (CSOs) is vital to ensuring that the voices of all stakeholders throughout society are heard and the rights of all citizens are promoted and protected. This year's theme for International Day of Democracy, on September 15, was space for civil society, which is "a reminder to governments everywhere that the hallmark of successful and stable democracies is the presence of a strong and freely operating civil society," according to the United Nations. Civil society can also play a role in monitoring the abuse of power and corruption – holding governments accountable for undemocratic practices – and spurring political participation through civic and voter education.
Over 90 parties and 6,000 candidates vied for seats in Myanmar's November 8 general elections and this was the first time observer missions have been accredited, with 10,000 domestic and 1,000 international observers monitoring the vote. The opposition National League for Democracy, led by Nobel Prize Laureate Aung San Suu Kyi, won 77 percent of the seats, and the ruling Union Solidarity and Development Party graciously conceded defeat in what has been hailed as a historic moment for democracy in Myanmar.
Since 2012, the International Foundation for Electoral Systems (IFES) has partnered with 17 CSOs throughout Myanmar to prepare for the 2015 general elections and strengthen electoral and democratic processes. These partnerships have addressed many important political and human rights issues, such as access for persons with disabilities, women and youth empowerment, and civic and voter education.
Disability Rights
Since 2013, IFES has worked with the Myanmar Independent Living Initiative to promote the rights and inclusion of persons with disabilities in areas such as elections, business, education and employment. MILI is based in Yangon and has 21 offices operating throughout the country. Ahead of the 2015 elections, MILI ran two IFES-funded programs to promote the electoral rights of persons with disabilities and provide capacity building and training for other disabled person's organizations. MILI also developed a how-to-vote guidebook for persons with disabilities, broadcasted voter education programs on Myanmar radio and television in sign language, organized a multi-day, mobile get-out-the-vote concert, and helped train 220 election officials on accessible polling procedures as part of the Union Election Commission's (UEC) poll-worker cascade training program. According to Nay Lin Soe, the Program Director for MILI, "IFES' support has been essential. Working with IFES has been a big encouragement for us when working on electoral issues."
Women's Empowerment
The "She Leads" program was a major highlight of IFES' work in Myanmar. Implemented by IFES' local partner Yaung Chi Thit in 17 locations across 14 states and regions, the program builds on the success of IFES women's leadership programs in Cambodia, Indonesia and Libya and provides women with knowledge of the electoral process, develops leadership skills and emphasizes the important role that women play in the political process. In total, the program reached over 500 women, and six of the participants went on to run as candidates. The women participating in the program included teachers, lawyers and disability rights activists. In July, Angelina Jolie, United Nations High Commissioner for Refugees Goodwill Ambassador, met with young women leaders participating in the program. "The elections in November are an extremely important moment for this country. Today I met inspiring young women preparing to vote for the first time, who have educated themselves about the process and come together to share that knowledge with others at this critical time," Jolie said in a press statement.
IFES also partnered with Creative Home to conduct voter education activities that specifically targeted women voters. Founded in 2009, Creative Home conducts advocacy and capacity-building programming in the areas of good governance, leadership, gender equality, and voter education. In many societies, women assume the primary responsibility for raising children and other household duties, which is often a barrier to participation on Election Day. Creative Home sought to address this challenge to women's participation with a voter education campaign emphasizing that husbands had a responsibility to help wives vote by taking care of children on Election Day.
Youth Engagement and Voter Education
For many in Myanmar, November 8 was their first opportunity to vote, and many citizens were unaware of basic electoral procedures; this was particularly true among the youth. IFES partnered with the Pandita Development Institute (PDI) to conduct a Facebook voter education campaign to motivate youth and first-time voters to check the voter list to ensure their information was correctly recorded and cast their ballots on Election Day. PDI was founded in 2011 by nine young people who sought to motivate their peers to become actively engaged in Myanmar's transition. PDI's Vote for Myanmar Facebook campaign was widely visited in the lead up to November 8. For example, an album it posted on November 1 with various voter education images reached 348,555 people, receiving nearly 45,000 likes. In a country with one of the lowest level of Internet penetration in the world, PDI's social media voter education efforts reached a remarkable proportion of users. As Myanmar develops and becomes a more connected society, PDI is well placed to expand its successful voter education efforts.
According to an IFES public opinion survey conducted ahead of the November elections, "only about one in five [Myanmar citizens] say that they have either a great deal (1%) or a fair amount (20%) of information about the upcoming elections, compared to 33 percent who do not have much information and 46 percent who have no information at all." Thus, the need for voter education was not only a concern among Myanmar's youth, as many citizens were unsurprisingly unfamiliar with many aspects of the electoral process. Along with its partner The Serenity Initiative (TSI), IFES supported the Myanmar Electoral Resource and Information Network (MERIN), which provided election information and materials to the public, such as a library with democracy and governance journals and books. MERIN's website also featured election FAQs, voter education materials and a host of other resources. TSI also used the MERIN Resource Center to hosts election-related trainings.
The Path Ahead for Civil Society in Myanmar
While impressive in its own right, this is but a snapshot of Myanmar civil society's contribution to the success of the elections. International observation groups, such as The Carter Center, have noted that thousands of civil society observers were seen in polling stations on Election Day. The UEC should also be recognized for, what The Carter Center called, "a consultative approach on a number of important issues," adding, "This included working with international election assistance providers, such as IFES, as well as working with civil society and political parties on election observation, voter education, and campaign regulation." Myanmar's civil society helped many of the country's citizens have a voice in how they are governed for the first time. From addressing anti-Muslim sentiment to the array of development issues Myanmar faces in the years ahead, civil society will continue to play a vital role in cultivating a more pluralistic and open society and be Myanmar's "oxygen for democracy."