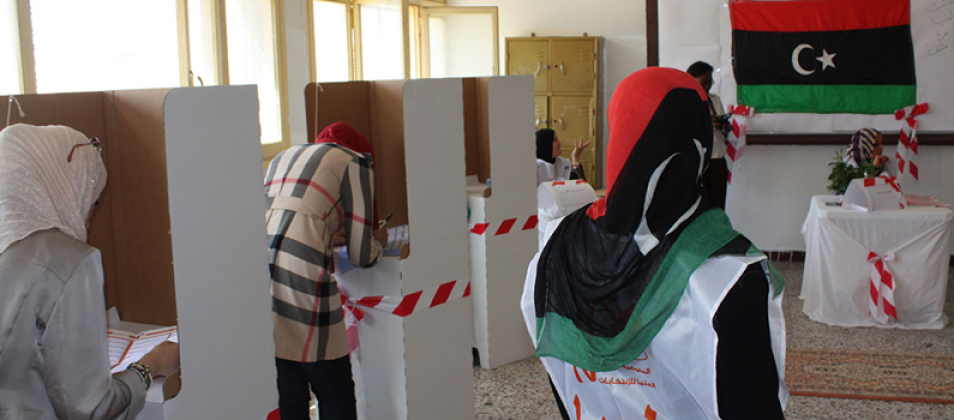 New Survey on Libyan Voters' Attitudes Toward Political Situation and Future Elections
In 2018, the International Foundation for Electoral Systems (IFES) – with the support of the United States Agency for International Development – conducted a nationwide household survey exploring public opinion of the political situation in Libya and voter intentions to participate in future elections.
Data for the survey was collected during April and May 2018, and findings are being used to inform and identify priorities for IFES, the High National Elections Commission (HNEC), the Central Committee for Municipal Council Elections (CCMCE) and other national and international stakeholders to more effectively increase public knowledge of, and engagement in, Libyan political and electoral processes. Questions in the survey included views on the Libyan transition, public perception and awareness of the HNEC and CCMCE, elections and democracy, women in politics, persons with disabilities, and women's rights and freedoms.
The survey found that close to half of all Libyans believe that the political situation in the country has gotten worse compared to the situation one year ago. Overall, 48 percent say that the political situation has worsened in the past year, while 35 percent say it has stayed the same. While this represents a largely pessimistic outlook, it is an improvement from the year before, when a sizeable majority of 69 percent saw the situation as worsening. In 2017, only 6 percent saw the political situation as being better than a year prior, with 25 percent saying it was the same. Security and economic issues are the top reasons for concerns about the direction of change, and there is only a low level of optimism about the potential outcomes of the current political dialogue initiatives.
While most Libyans do not think that they can influence decision-making by the government, a majority still believes that Libyan citizens should take part in future elections. A plurality of Libyans say that elections are either very important and that every Libyan should absolutely participate (59 percent) or that elections are generally important and that Libyan citizens should try to participate (25 percent).
Sixty percent of Libyans note that, in their opinion, stability is more important than the preservation of democratic rights, while 27 percent see the preservation of rights as important but balanced with necessary compromises to ensure stability. Conversely, only 10 percent say that preservation of democratic rights should be prioritized over stability in the country.
The survey also shows that Libyans are divided as to the progress that has been made under the action plan developed by the United Nations, although they do express some optimism that the plan can lead to a lasting and stable outcome in the country. Different attitudes in this area can be seen as resulting from regional views on the best sequence of events going forward and which institution is best equipped to lead the country. Libyans overwhelmingly say they would vote yes on the Constitution Drafting Assembly's constitutional proposal, although only a third of the country say they are very likely to participate when the referendum occurs. An additional 42 percent say they are somewhat likely to vote.
The survey shows remaining differences in the attitudes of men and women toward women's political participation. As such, women are much more likely to advocate for women's political participation in Libya, including serving as a legislator or president of the country, while men are significantly more likely to say they would not vote for a woman to serve in either of these roles. However, a sizeable number of women share this attitude. Views on freedom of movement and association for women also limit women's participation in the political sphere, with many agreeing that women should be limited in associating and moving freely within society.