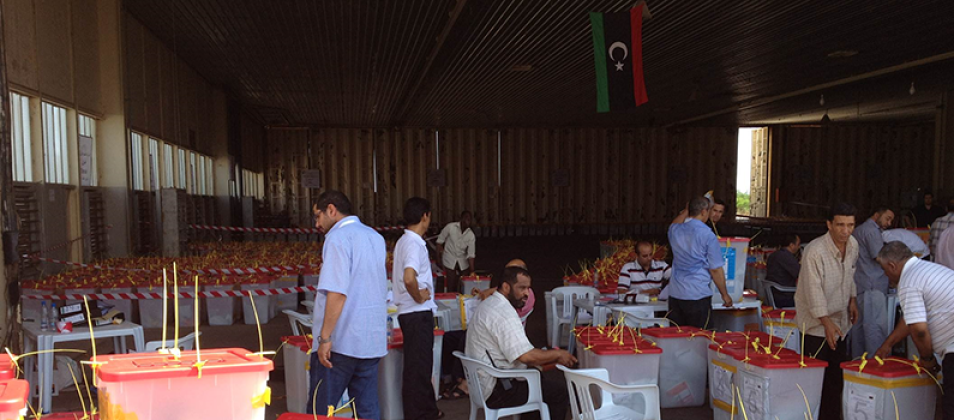 Survey Reveals Libyans Eager to Participate in Elections, Worried about their Country's Situation
In 2017, the International Foundation for Electoral Systems (IFES) – with the support of the United States Agency for International Development (USAID) – conducted a nationwide household survey in Libya on citizens' intentions to vote and engage in future electoral events in the Libyan transition. In total, 2,000 households across the country were interviewed, with male and female respondents equally represented. The survey findings are currently being used to identify priorities and enable IFES, the High National Elections Commission (HNEC), and other national and international stakeholders to more effectively increase public knowledge of, and engagement in, Libyan political and electoral processes. Questions included views on the Libyan transition, public perception and awareness of the HNEC, elections and democracy, women in politics, persons with disabilities, and women's rights and freedoms.
The survey found that a large majority of Libyans feel that the political situation in the country has gotten worse over the past year and that there is only a low level of optimism about the potential outcomes of the current political dialogue initiatives. However, a majority of Libyans also value elections and indicate that they would participate in future elections.
[caption align="right"]
[/caption]
The survey found that only around 40 percent of the population know about the role of HNEC and could correctly identify it as the Libyan institution responsible for conducting elections. However, among the people knowing about HNEC, the level of confidence in its ability to carry out credible elections is high. The survey also identified areas for HNEC to grow its public presence such as its Facebook page and website. The survey results have prompted IFES to increase efforts to support HNEC's outreach activities across Libya to raise public awareness about its role in the transition.
The survey indicates that although more than 60 percent of respondents are likely to vote in upcoming electoral events (a constitutional referendum and/or presidential elections), one in three Libyans of voting age is not registered to vote. Lack of registration is especially high among women and young voters.
Despite illustrating a strong support for gender quotas (77%), the survey also found that a clear majority of Libyans believe that men make better leaders than women. The survey found great support for the participation of persons with disabilities in the political system, with more than 80 percent of respondents believing that electoral authorities should increase polling station accessibility and conduct more outreach and voter education for persons with disabilities.