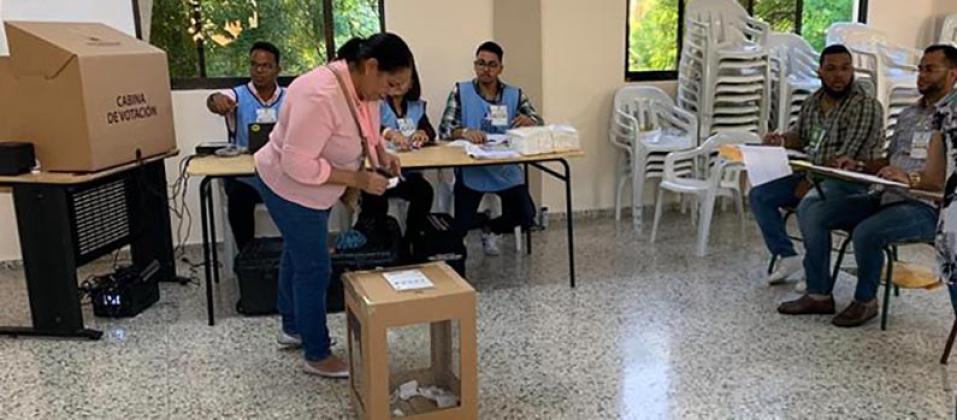 Taking Stock: Opportunities for Electoral Improvements in the Dominican Republic
2020 was a particularly challenging and historic year for the Dominican Republic. The February municipal elections and March general elections were postponed as a result of technological failure and the COVID-19 pandemic. Despite a politically fragile context and new obstacles, the Central Electoral Board (JCE) successfully held general elections in July that resulted in a peaceful shift of presidential power between political parties. The success of the general elections and change in political leadership have created momentum for change and improvement during a critical post-electoral period.
In the run-up to the next electoral cycle, the International Foundation for Electoral Systems (IFES) supported the new JCE board to identify reform priorities following the 2021 electoral process. Under a subgrant with Participación Ciudadana, IFES provided post-election support to promote institutional learning from the 2020 elections and identify potential improvements in election administration and JCE operations. IFES conducted targeted analyses to inform modernization using comparative best practices and international principles. Following the post-election review, IFES supported the JCE to develop its 2020-24 strategic plan. The strategic planning process will help create a shared understanding of electoral issues among members across the JCE with different areas of responsibility and expertise.
IFES developed and disseminated a baseline survey outlining electoral barriers to Dominicans with different types of disabilities. The survey was sent to 30 organizations representing people with a range of disabilities. Based on responses, IFES and the JCE's Inclusion Commission developed a list of recommendations that included sharing information about developments within the commission with disabled people's organizations and developing a campaign for the adoption of an inclusion policy. Based on this, IFES supported the JCE in developing an inclusion policy that was approved by the JCE's board.
During discussions with Dominican stakeholders in November 2020, IFES identified the following topics as key areas for comprehensive post-election review: political finance, vote buying and electoral system reform.
Political Finance
Financiación de los Partidos Políticos para el Mejoramiento del Proceso Electoral en la República Dominicana is a study on the theoretical and conceptual framework of party financing, as well as the best legislative practices of comparative party finance oversight. This report delivers insight on the influence of money in politics to improve finance oversight models and provide support in confronting the threats and challenges to democracy in the Dominican Republic and throughout Latin America. This tool is intended to guide processes of regulatory improvement and/or legislative reform around party financing based on a rigorous analysis of the relevant laws and regulations in the Dominican Republic.
Author: Political Finance Specialist Héctor Díaz-Santana
Vote Buying
La Compra de Votos en la República Dominicana highlights the issue of vote buying, which poses a significant political and social challenge. A series of interviews were conducted with representatives of political parties, civil society and academia, all of whom agreed that vote buying is a common practice in political campaigns. This report proposes reforms to improve the current system through the development of interinstitutional coordination protocols and the investigation and prosecution of vote buying.
Author: Political Finance Specialist Héctor Díaz-Santana
Electoral System Reform
Estudio del Sistema Electoral de la República Dominicana en Perspectiva Comparada provides a comparative study of the Dominican Republic's Chamber of Deputies and counterparts in other Latin American countries. The study's findings suggest a political climate that is conducive to change and provides recommendations to capitalize on the newfound political opening. There is currently no structured movement demanding electoral reform within the Chamber of Deputies due to a lack of sufficient technical information on how the electoral system functions. The report proposes new reforms such as the improvement and dissemination of technical knowledge among civil society, the media and minority parties.
Author: Senior Elections Specialist Rafael López Pintor
Published on June 30, 2021.