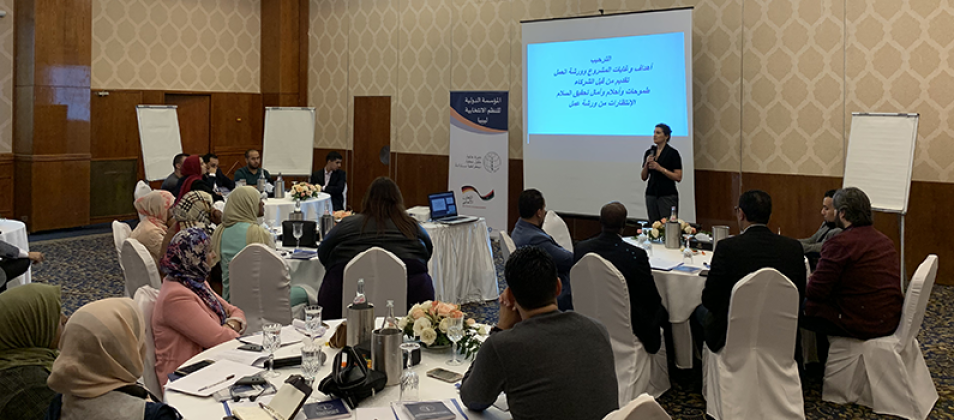 Conflict Analysis Workshop for Libyan Civil Society
In early December 2018, the International Foundation for Electoral Systems (IFES) conducted a conflict analysis workshop, with support from the German Foreign Ministry, for Libyan civil society representatives to identify local drivers of violence around elections and mechanisms for mitigating those factors. The workshop was facilitated by IFES' Regional Director for Asia-Pacific and Election Security Specialist Vasu Mohan and Conflict Mitigation Specialist Leena El-Ali.
Civil society representatives from throughout Libya discussed and analyzed the community-level dynamics that trigger violence, including their communities' political, economic, environmental and social risk factors, created links between their organizations and developed measures for mitigating and preventing conflict. They then discussed local capacity to mitigate conflict, particularly in the lead-up to upcoming elections, and cross-cutting themes of youth, gender and persons with disabilities. Finally, after receiving conflict mitigation and rapid response tools designed for civil society organizations (CSOs) and the media, the representatives broke into smaller groups for regional planning.
The workshop's discussions on conflict mitigation and prevention measures will be used to inform the development of a Stabilization and Conflict Mitigation Manual, which will be made available in Arabic, Amazigh and Tebu.
IFES has been working in Libya since 2012 and works closely with the High National Elections Commission, Central Committee for Municipal Council Elections, the Ministry of Education, CSOs and other stakeholders to conduct voter outreach and engagement and provide technical support on elections procedures. To learn more about IFES' programming in Libya, please visit this page.