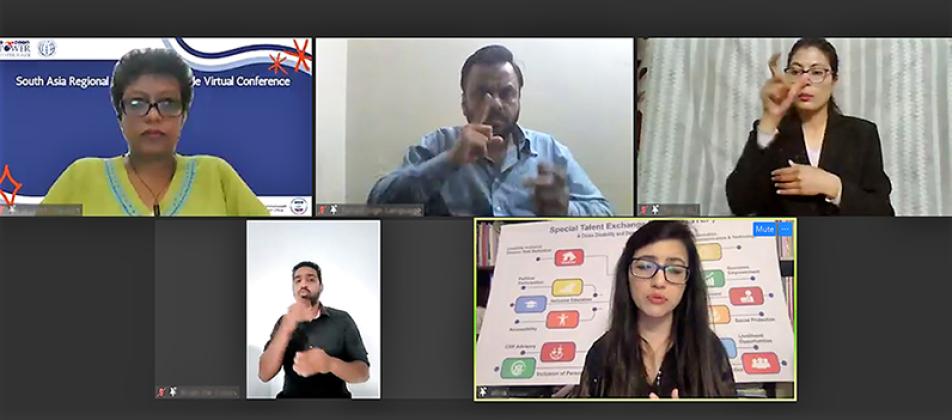 First Virtual Conference of South Asia "Power to Persuade" Alumnae
The COVID-19 pandemic has created new challenges and exacerbated existing barriers to political participation, particularly for women with disabilities. On March 3, 2021, in collaboration with the Special Talent Exchange Program (STEP), a disabled persons' organization in Pakistan, and Nepal Disabled Women Association (NDWA), the International Foundation for Electoral Systems (IFES) held a South Asia regional conference that brought together nearly 100 women with disabilities who are alumnae of IFES' "Power to Persuade" program.
"Power to Persuade" is an advocacy program that equips women with disabilities with skills needed to influence policy and decision-making at national and local levels. Over the past year, IFES' "Power to Persuade" program has reached hundreds of women across Bangladesh, Nepal, Pakistan and Sri Lanka, who have gone on to advocate for the rights of women and people with disabilities in their communities. The South Asia Regional Power to Persuade Virtual Conference engaged these advocates in reflecting on lessons learned and identifying opportunities to leverage their collective voices to further enhance the fundamental rights of women with disabilities across the region. The conference was supported by Global Affairs Canada, aid from the UK government and the United States Agency for International Development.
During the conference, "Power to Persuade" alumnae and trainers including Hiba from Pakistan, Meena Paudel from Nepal, Nazia from Bangladesh and Subhani from Sri Lanka shared examples of their advocacy efforts and impact in their communities. Following participation in "Power to Persuade," women with disabilities in Pakistan and Nepal developed recommendations for an inclusive and accessible COVID-19 response, which are being used for local and national advocacy. Alumnae in Pakistan also joined the National Forum of Women with Disabilities and are leveraging this network in coordination with STEP to mobilize support for their advocacy efforts at the provincial and national level, with comprehensive policy priorities that range from full implementation of a quota for people with disabilities to adoption of assistive voting technology. As a result of the Nepal Disabled Women's Association's advocacy, disability coordination committees were created in each local unit to provide services to people with disabilities, and 4 million Nepalese rupees (approximately USD 34,000) was made available for programs targeting women with disabilities. In Bangladesh, with universities moving classes online due to COVID-19, "Power to Persuade" alumnae used techniques they learned from the training to advocate with university officials and professors to provide students with information in accessible formats. Building on skills gained from "Power to Persuade," women with disabilities in Sri Lanka are using social media for remote advocacy to hold government officials accountable during the pandemic to promote inclusive rights.
"Although I have been involved in many community projects, I didn't know how to design an advocacy plan, do a stakeholder mapping, explore my opportunities to collaborate on similar initiatives with women like me from other parts of the island. This program [Power to Persuade] made me think more strategically and plan to win." – Nandhiny, "Power to Persuade" alumna, Sri Lanka
STEP Project Director Abia Akram highlighted good practices for including women with disabilities in the broader women's movement in Pakistan and how women with disabilities can engage in a national-level public policy dialogue. Smitha Sadasivan, a member of the Disability Rights Alliance in India, shared impacts from her involvement in the South Asia Regional Disability Rights Dialogue in 2015, through which disability rights advocates worked with the Forum of Election Management Bodies in South Asia to develop and adopt the Colombo Resolution, which established common commitments by election officials across the region to promote inclusive electoral processes. Although she is not a "Power to Persuade" alumnae, Sadasivan's examples of how she partnered with the Election Commission of India to implement the Colombo Resolution provides a model for other disability rights advocates. Sharing regional advocacy experiences from across Asia-Pacific, Gina highlighted good practices of the General Election Network for Disability Access in Southeast Asia (AGENDA) for advocating with the Association of Southeast Asian Nations (ASEAN).
"For me, the Power to Persuade training has been very beneficial. It has built capacity and now I am more confident to play a leading role in the Khyber Pakhtunkhwa Province [of Pakistan] to become the voice for women with disabilities and advocates for their equal rights in Pakistan." – Sakina, "Power to Persuade" alumna, Pakistan
The last session of the conference engaged participants in reflecting on the impact and successes shared by women disability rights advocates, as well as how these lessons could be leveraged to advance joint regional goals. Participants collaborated on a set of recommendations for implementing Sustainable Development Goal (SDG) 16 on peace, justice and accountable institutions, including perspectives on how to create an enabling environment for meaningful participation of women with disabilities for institutions that better respond to all citizens. The recommendations draw upon policy platforms developed through each country's "Power to Persuade" program. Leveraging these recommendations, women with disabilities are advocating to policymakers at international and regional forums, including a side event at the United Nations Commission on the Status of Women, to ensure that progress on SDGs includes women with disabilities. These forums provide a unique opportunity for South Asian women with disabilities to bring attention to and advance their collective policy priorities, and to establish a joint commitment with policymakers.
IFES will build upon this regional effort to launch a global network of women advocates with disabilities in the coming months.
Published April 23, 2021.