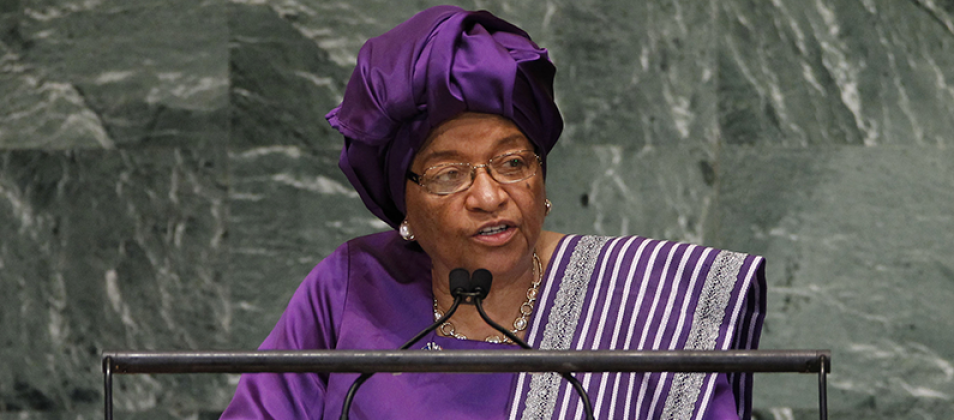 IFES Announces International Recipient of 2018 Democracy Award
Note: This press release was updated on August 29, 2018. Former President Ellen Johnson Sirleaf had previously been scheduled to accept the 2018 Charles T. Manatt Democracy Award remotely via a video message and will now be attending the ceremony in person.
To RSVP for the 2018 Charles T. Manatt Democracy Awards Dinner, please click here.
The International Foundation for Electoral Systems (IFES) will honor former President Ellen Johnson Sirleaf of Liberia with its 2018 Charles T. Manatt Democracy Award at a special ceremony on September 24, in Washington, D.C. The ceremony will be emceed by Caraway Group President and CEO Yolanda Caraway and co-chaired by IFES Board Chairman Ken Blackwell and Smith-Free Group Senior Vice President Alicia Smith.
Johnson Sirleaf was elected president of Liberia in 2005, following more than 20 years of devastating civil conflict, and became Africa's first elected female head of state and the world's first elected black female president. By stepping down after two consecutive terms in office, in accordance to the Constitution of Liberia, Johnson Sirleaf demonstrated great respect for the rule of law and helped ensure the consolidation of democracy in Liberia. The October 2017 general elections represented the country's first peaceful political transfer between democratically elected governments since 1944.
She also demonstrated exemplary leadership during the Ebola outbreak in 2014, when senatorial elections originally slated for October 14 were moved to December 20, after the expiration of a state of emergency. Amid a public health crisis, Liberians headed to the polls to elect half of the country's 30-member Senate. The conduct of this election was an important marker of the progress made in the fight against Ebola and of the democratization efforts in Liberia.
"It is with deep appreciation that we have selected Madame Johnson Sirleaf as a recipient of the 2018 Democracy Award, and we are proud to honor her enduring legacy and determination to promote respect for the rule of law and human rights as foundations of good governance and democratic accountability," said IFES President and CEO Bill Sweeney. "IFES has been present in Liberia since 2004, working to develop a cadre of highly trained election officials capable of managing the full electoral cycle."
"I have great respect and admiration for the contribution of IFES to the promotion of peace and democracy in Africa and I am honored to receive the Charles T. Manatt Democracy Award. After decades of violent conflict, I am proud that the power finally rests where it should – with the Liberian people," said Johnson Sirleaf.
In recognition of her leadership during the challenging period of transition in Liberia and for the transformative changes that took place under her administration, Johnson Sirleaf was awarded the 2017 Ibrahim Prize for Achievement in African Leadership. She was also one of three recipients of the 2011 Nobel Prize for Peace for her "nonviolent struggle for the safety of women and for women's rights to full participation in peace-building work."
IFES' Charles T. Manatt Democracy Awards are presented each year to a Democrat, a Republican and a member of the international community who demonstrate the dedication to democracy and human rights embodied by the award's namesake, former IFES Board of Directors Chairman Charles T. Manatt.
Previous international recipients include Organization of American States Secretary General Luis Almagro (2017); disability rights advocate Nay Lin Soe of Myanmar (2016); former Chairman of Nigeria's Independent National Electoral Commission Professor Attahiru Jega (2015); Venezuelan opposition leader Maria Corina Machado (2014); former President of the Federal Electoral Institute of Mexico Dr. Leonardo Valdés Zurita (2013); Kenyan gender advocate Maimuna Mwidau (2012); South African Judge Johann Kriegler (2011); and former Lebanese Minister of Interior and Municipalities His Excellency Ziad Baroud (2010).
###
As the global leader in democracy promotion, IFES advances good governance and democratic rights by providing technical assistance to election officials; empowering the underrepresented to participate in the political process; and applying field-based research to improve the electoral cycle. Since 1987, IFES has worked in over 145 countries, from developing democracies, to mature democracies. For more information, visit www.IFES.org.