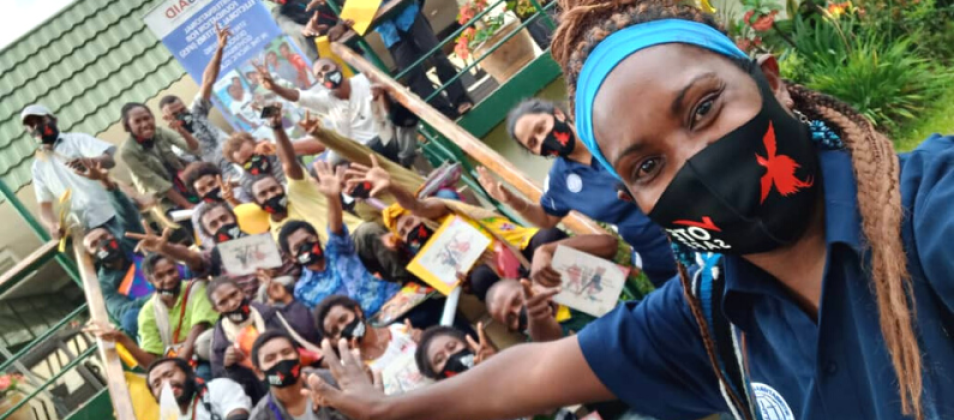 IFES Celebrates International Youth Day 2022
The United Nations celebrates International Youth Day (IYD) on Aug. 12 to draw global attention to the positive contributions that young people make to their communities.
Each year, the International Foundation for Electoral Systems (IFES) invites you to participate in our annual IYD celebration to promote youth engagement in democratic processes. This year IFES will highlight young changemakers through a month-long social media campaign on the IFES Youth Twitter page and the IFES global Twitter and Facebook accounts and a live event on Aug. 16.
This year's IYD theme, Intergenerational Solidarity: Creating a World for All Ages, brings awareness to the important partnerships across all ages that are needed to advance sustainable democracy.
On Tuesday, Aug. 16, IFES will hold "Youth-Led Intergenerational Advocacy," a virtual event that will involve a skills workshop to learn more about IFES' Inclusive Digital Advocacy Toolkit and to share strategies that young people can employ when advocating for youth engagement in civic and political life. IFES and guest speakers will discuss how intergenerational partnerships can push forward youth commitments made at the 2021 U.S. Summit for Democracy and throughout the Global Year of Action.
Register for the Zoom event here.
IFES will further acknowledge the tremendous barriers that young people face to equal and impactful engagement in public life while highlighting the role that other generations can play in mitigating these barriers to support more inclusive youth engagement.
To learn more about IFES' youth programming, visit the Youth Engagement page on IFES.org and follow @IFESYouth on Twitter for current updates.
CELEBRATING YOUTH AROUND THE WORLD
IFES and partners conducted a cross-generational training in the Mekong Region (Vietnam, Cambodia and Thailand), with a diverse group of 520 community members. The training elements strengthened young people's skills and intergenerational relationships with older generations on topics such as media literacy, mis- and disinformation and hate speech. Read more about the workshop here.
Under the Youth Advocacy, Linkages, Leadership in Elections and Society (Youth ALLIES) initiative, IFES worked with partners to run a civic education-focused training of trainers (ToT) workshop with a diverse group of young leaders from across Guyana. The ToT has created a network of Youth Allies to will in turn drive civic education initiatives and advance democracy in their communities.
IFES and the U.S. Agency for International Development (USAID) co-hosted a discussion with young leaders with disabilities to discuss ways the Global Disability Summit and the 2022 Disability-Inclusive Democracy Year of Action can be used to improve political access for young people with disabilities. While the GDS brought together people of all ages, the IFES-led event focused on highlighting and promoting the voices of all members of the disability community. Review the commitments made by IFES here.
With support from IFES, civil society organizations (CSOs) representing people with disabilities, women, LGBTQI+ people, refugees and young people worked together to draft a policy platform using IFES' Power to Persuade methodology. Together, the CSOs drafted a policy platform advocating for equal access to political rights, education, employment and inclusive governance and legal frameworks across generations in Lebanon.
Published August 1, 2022.