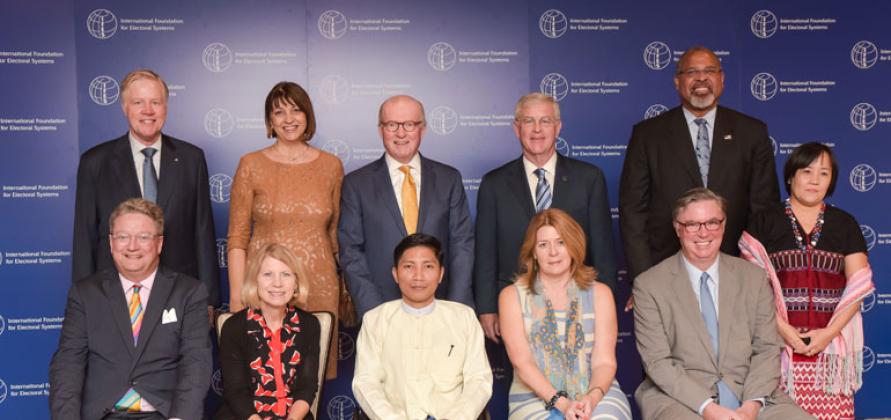 IFES Elects New Bipartisan Board Leadership, Recognizes Departing Board Members and Welcomes New Members
$(document).ready(function() { $(".subtitle").insertAfter(".pane-node-title");});
The Hon. J. Kenneth Blackwell was Elected Chairman and Donald R. Sweitzer Elected Co-Chairman of the IFES Board of Directors; Judy A. Black, Lesley Israel, the Hon. Robert Livingston and R. Scott Pastrick Stepped Down from the Board; Randal Teague and Amb. Theodore Sedgwick were Newly Elected to the Board
The International Foundation for Electoral Systems (IFES) today announced the election of the Hon. J. Kenneth Blackwell as chairman of its Board of Directors. Donald R. Sweitzer, the previous chairman of the Board, was elected as co-chairman. Amb. Blackwell, a Republican, and Sweitzer, a Democrat, will lead the IFES Board of Directors in an expression of the Board's bipartisan nature.
The Board also elected William J. Hybl, a Republican and former IFES chairman who has served on the Board since 1996, and the Hon. Barbara B. Kennelly, a Democrat who has been an IFES Board member since 2003, as vice-chairs; June Langston DeHart as treasurer; and Thomas A. Devine as secretary.
"During this tumultuous period for global democracy, I look forward to this challenging role and the opportunity to advance IFES' work to give a vote to every voice," said Blackwell. "I also am looking forward to promoting IFES' mission and the value of inclusive, credible and transparent elections to the new administration."
"I am pleased to continue in a leadership role as co-chair of the Board of Directors. I also am looking forward to continuing to work with IFES' dedicated and professional staff to further our mission," said Sweitzer. "The work of IFES is needed now more than ever and our bipartisan Board is committed to building on IFES' global reputation as a leader in democracy promotion."
"The new bipartisan leadership pledges to embody IFES' values and continue to support IFES' critical mission to give every person a voice and a vote," said IFES President and CEO Bill Sweeney. "IFES is committed to an inclusive and diverse workforce and has advocated for the same level of acceptance and tolerance in its programming over the past three decades. The current challenging environment for democracy promotion requires a fully supportive, engaged and innovative Board of Directors to advance IFES' vision and shape our strategic direction."
Former Vice-Chairman Judy A. Black, former treasurer Lesley Israel, the Hon. Robert Livingston, and R. Scott Pastrick stepped down from the Board in December 2016. The four directors served a combined 70 years on the IFES Board.
The Board of Directors also elected former IFES Legal Counsel Randal Cornell Teague Sr. and former U.S. Ambassador to Slovakia Theodore Sedgwick as new members. Teague was IFES' counsel from 1987 to 2014 and served as co-chair of the IFES Charles T. Manatt Democracy Award in 2014. Ambassador Sedgwick served as co-chair of the Democracy Award in 2016.
The transitions bring the total number of Board members to 20.
"Teague has a profound understanding of IFES' organizational priorities and operational structure from his long tenure as our legal counsel, while Ambassador Sedgwick was a supporter of democracy and governance during his time as U.S. ambassador to the Slovak Republic and brings extensive knowledge of non-profit management, journalism and the publishing industry to the IFES Board," said Sweeney. "Their diverse backgrounds will complement the Board's wide-ranging expertise and further enhance the Board's role in providing strategic leadership to the organization."
"I am also deeply grateful to the service and contributions of the extraordinary individuals who have stepped down from the IFES Board of Directors after decades of service. Their dedication and insights will be missed," added Sweeney.
About the Hon. J. Kenneth Blackwell – Chairman
Ambassador J. Kenneth "Ken" Blackwell is an author and senior fellow for human rights and constitutional governance at the Family Research Council. He is a visiting professor at the Liberty University School of Law, a contributing editor for Townhall.com, and a public affairs commentator for the Salem Radio Network. Amb. Blackwell is a fellow at the National Academy of Public Administration, a visiting fellow at the American Civil Rights Union, a former director of the Academy for Government Accountability, and a member of the National Rifle Association's Advisory Board. Amb. Blackwell has had a vast political career. He was mayor of Cincinnati, treasurer and secretary of state for Ohio, undersecretary at the U.S. Department of Housing and Urban Development and U.S. ambassador to the United Nations Human Rights Commission. Amb. Blackwell was a delegate to the White House Summit on Retirement Savings in 1998 and 2002. During the 1990s, he served on the congressionally appointed National Commission on Economic Growth and Tax Reform, the Board of Directors for the International Republican Institute and the Board of Directors of the American Council of Young Political Leaders.
About Donald R. Sweitzer – Co-Chairman
Donald R. Sweitzer is the chairman of IGT Global Solutions, a leading gaming technology and manufacturing company. Sweitzer is a trustee of the Providence Performing Arts Center in Providence, Rhode Island and the former president of the Dorset Resource & Strategy Group, a public affairs company in Washington, D.C. He also served as the managing partner of a political consulting firm, Politics, Inc., a Kamber Company. From 1993-1994, Sweitzer was the political director of the Democratic National Committee and in the late 1980s and early 1990s, he worked at Black, Manafort, Stone & Kelly and Capitol Associates, both Washington, D.C. government relations firms. From 1985-1989, Sweitzer served as the finance director of the Democratic National Committee. Prior to that, he worked in the U.S. Senate as a special assistant to Senator Howard M. Metzenbaum (D-OH). He is the former national legislative director of the Brotherhood of Railway Clerks, AFL-CIO, now affiliated with the International Association of Machinists (IAM).
About William J. Hybl – Vice Chairman
William J. Hybl is chairman and CEO of El Pomar Foundation, a general-purpose foundation and a national leader in innovative grantmaking focusing on excellence in individual and organizational leadership. Hybl also serves as vice chairman of the Board of Broadmoor Hotel, Inc., and is president of the Air Force Academy Foundation and The Hundred Club of Colorado Springs. He serves on the Boards of Directors for Garden City Company, FirstBank Holding Company of Colorado, and Mountain States Employers Council. In addition, Hybl is chairman of the U.S. Commission on Public Diplomacy, appointed by President George W. Bush in 2008 and reappointed by President Barack Obama in 2011. President George W. Bush also appointed him as U.S. representative to the 56th General Assembly of the United Nations. He was a member of the Colorado House of Representatives from 1972-73, and was special counsel to President Ronald Reagan in 1981. Hybl is president emeritus of the U.S. Olympic Committee and chairman of the U.S. Olympic Foundation.
About the Hon. Barbara B. Kennelly – Vice Chairman
Barbara B. Kennelly is the president and founder of Barbara Kennelly Associates, a government relations and lobbying firm specializing in health and tax issues, and also serves as a distinguished professor of government at Trinity University in Washington, D.C. She was president and CEO of the National Committee to Preserve Social Security and Medicare. Kennelly served 17 years in the U.S. House of Representatives representing the First District of Connecticut. During her congressional career, she was the first woman elected to serve as the vice chair of the House Democratic Caucus, on the House Committee on Intelligence, as chief majority whip, and the third woman in history to serve on the 200-year old Ways and Means Committee. During the 105th Congress, she was the ranking member of the Subcommittee on Social Security. Prior to her election to Congress, Kennelly was secretary of state of Connecticut.
About June Langston DeHart – Treasurer
Since joining Manatt, Phelps & Phillips, LLP in 1987, June Langston DeHart has served clients as a Washington problem solver, seeking creative solutions in the federal arena. She advises clients on a broad range of legislative and regulatory matters, including transportation, water and other public infrastructure policy and funding; energy; tax; appropriations; international trade; gaming; and other issues. DeHart represents her clients' positions in policymaking proceedings before the United States Congress, the White House, federal agencies, and international organizations. DeHart often advises CEOs and Boards of Directors on federal policy issues. Her clients include U.S. and international businesses, state and local governments, other public entities, foreign governments, trade associations and nonprofits. Prior to joining Manatt, DeHart served as chief counsel for the U.S. Senate Subcommittee on Energy, Nuclear Proliferation and Government Processes and was legislative assistant and counsel to Senator Cochran. DeHart has extensive prior experience in state government.
About Thomas A. Devine – Secretary
Thomas "Tad" A. Devine is a media consultant and strategist, writing, directing and producing television and radio advertising for leading Democratic and independent candidates in the U.S. He has produced television advertising in 20 winning U.S. Senate and gubernatorial campaigns, and worked on 10 winning campaigns for president or prime minister around the world. In 2016, he served as senior strategist to the Bernie Sanders campaign, and served in the same capacity for the 2000 Gore/Lieberman campaign and oversaw day-to-day operations management in the general election. In 2004, he served as a senior adviser and strategist to Senator John Kerry's presidential campaign. Devine's international experience includes work for winning campaigns in Colombia (President Andrés Pastrana, 1998), Israel (Prime Minister Ehud Barak, 1999), Peru (President Alejandro Toledo, 2001), Bolivia (President Gonzalo Sanchez de Lozada, 2002), Ireland (Taoiseach Bertie Ahern, 1997, 2002 and 2007), Honduras (President Mel Zelaya, 2005), and Ukraine (Prime Minister Viktor Yanukovych, 2006 and President Yanukovych, 2010).
About Randal Cornell Teague Sr. – New Member
Randal Cornell Teague Sr. is the former chief of staff and legislative counsel to U.S. Representative Jack K. Kemp (R-NY) and former chairman of the Advisory Committee on Voluntary Foreign Aid of the U.S. Agency for International Development. Teague was, from 1981 through 2014, an attorney and partner in the Washington, D.C. office of Vorys, Sater, Seymour and Pease LLP. His practice focused on corporate and tax law, international trade and development and legislative and administrative government relations. Teague remains admitted to practice before 13 state and federal courts, but he is now furthering interests outside of law practice. From 1987 to 1991, during the Presidents Ronald Reagan and G.H.W. Bush administrations, he served as chairman of the Advisory Committee on Voluntary Foreign Aid of the U.S. Agency for International Development, for which he received its Superior Honor Award.
About Theodore Sedgwick – New Member
Former U.S. Ambassador to the Slovak Republic Theodore Sedgwick has experience as a successful journalist, publisher, entrepreneur, and an active tenure with various non-profit groups including the Civil War Preservation Trust and the Shakespeare Theater Company. Prior to serving as U.S. ambassador to the Slovak Republic, Sedgwick was a business executive with experience in the publishing and timber industries. He founded Pasha Publications, a specialty publisher focused on energy, defense and environment markets, and served as its chief executive for 20 years. More recently, he founded IO Energy, an online energy information company covering the natural gas, coal, and electricity industries. He was president of Red Hills Lumber Co., a producer of pine flooring.
###
As the global leader in democracy promotion, IFES advances good governance and democratic rights by providing technical assistance to election officials; empowering the underrepresented to participate in the political process; and applying field-based research to improve the electoral cycle. Since 1987, IFES has worked in over 145 countries, from developing democracies, to mature democracies. For more information, visit www.IFES.org.
CONTACT:
Daniela Colaiacovo, dcolaiacovo@ifes.org, +1 (202) 350-6802