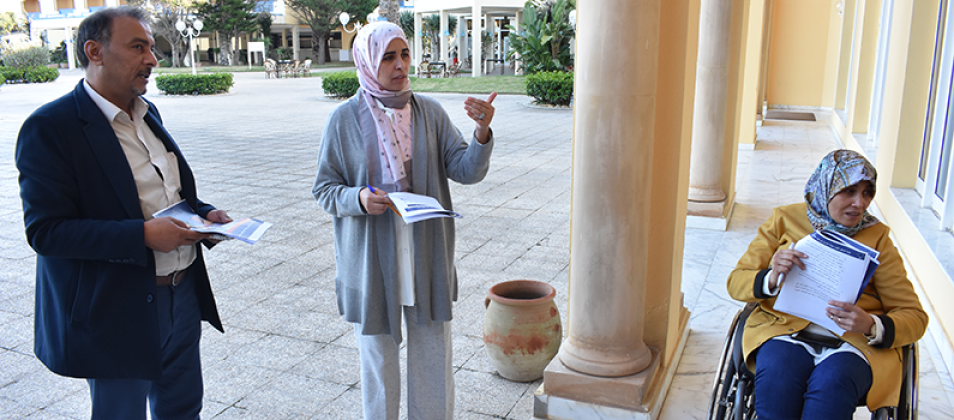 Training Libyans to Conduct Polling Station Audits
On December 4-6, 2019, the International Foundation for Electoral Systems (IFES) trained Libyan government officials and disability rights advocates on polling station audits and accessible architecture in Tunis, Tunisia. Twenty-eight participants from the High National Election Commission (HNEC), Ministry of Education (MoE) and disabled people's organizations learned about determining polling station accessibility and analyzing and using collected data. IFES Inclusion Specialist Rebecca Aaberg and Libyan architect Ahmed El-Rida co-led the interactive and inclusive training with IFES Project Officer for Libya Halima Elhaj.
During the training, participants had the opportunity to build and operate their own polling station after learning about the elements that make a polling station accessible to persons with different types of disabilities. Using IFES' Checklist for Assessment of Polling Station Accessibility and applying new knowledge of universal design concepts, participants engaged in a practice audit to examine and improve the physical environment of the polling station for all voters. Participants then created charts and graphs using the data collected during the mock audit and presented their findings.
"The training allowed us to discover several projects … and we cannot wait to go back to Libya and start coordinating and planning for similar projects with local civil society organizations." – Woman with a disability, Libya
The successful training will have long-lasting impacts for persons with disabilities and disability rights advocates, who now have the skills to conduct their own audits. The HNEC will incorporate what they learned during the trainings to create a model polling station at its headquarters. The training also strengthened coordination between the HNEC and MoE, which is responsible for building accessible schools used as polling stations during elections. Polling station audits and accessibility trainings encourage and foster best practices for inclusive elections to promote full participation of persons with disabilities in electoral and political processes.
The training was made possible through the support of the United States Agency for International Development through the Consortium for Elections and Political Process Strengthening (CEPPS). Established in 1995, CEPPS pools the expertise of three premier international organizations dedicated to democratic development: IFES, the International Republican Institute and the National Democratic Institute. CEPPS has a 20-year track record of collaboration and leadership in democracy, human rights and governance support, learning from experience, and adopting new approaches and tools based on the ever-evolving technological landscape.