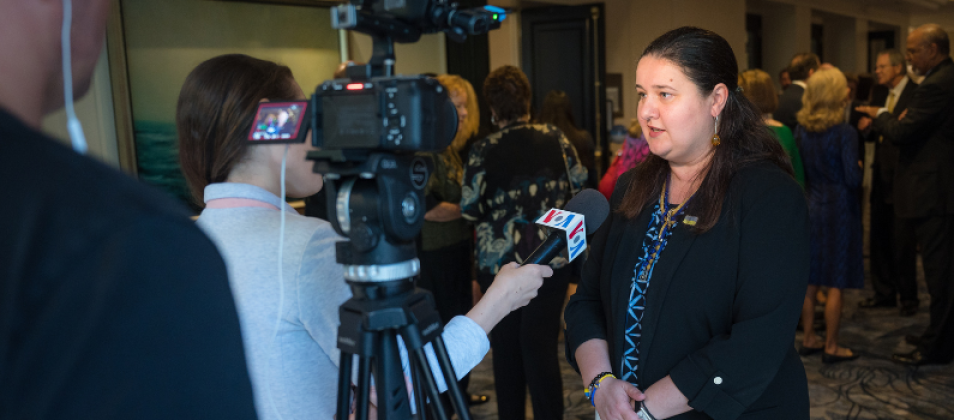 Voice of America on President Zelenskyy Receiving the IFES Charles T. Manatt Democracy Award
The Voice of America Ukrainian reported on Ukraine's President Volodymyr Zelenskyy receiving one of the International Foundation for Electoral Systems' (IFES) 2022 Charles T. Manatt Democracy Awards. Read their full coverage here.
As VOA reported, the award was accepted by Oksana Markarova, Ambassador of Ukraine to the United States, on President Zelenskyy's behalf. While she admitted that the chief focus of Ukrainian diplomatic efforts currently entails requests for more weapon and increased sanctions towards Russia, Markarova noted the importance of her country's struggle being recognized internationally by such awards, as it draws attention to the Russian invasion and affirms the staunch commitments of Ukraine's allies.
Additionally, Markarova commended IFES' support for Ukraine's democracy over the years. Peter Erben, IFES's chief adviser and IFES Ukraine Country Director, underlined the global expertise that IFES has been able to marshal and the vast range of cooperation which has been established.
Other recipients of IFES' Democracy Awards were the Democracy, Human Rights and Governance (DRG) officers of the U.S. Agency for International Development (USAID) and U.S. Senator Rob Portman, co-founder of Senate Ukraine Caucus. Samantha Power accepted the award on behalf of the DRG officers. In their speeches, both reflected on the significance of ensuring Ukraine's victory.
Published June 29, 2022.