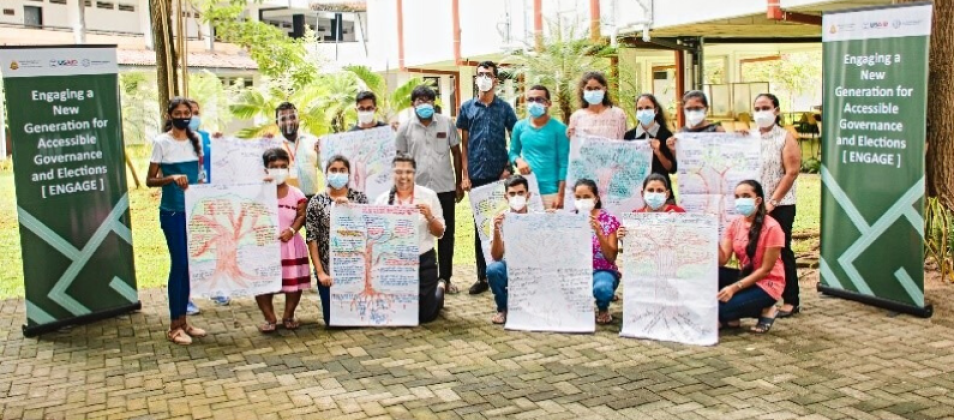 Developing Skills of Young Leaders with Disabilities in Sri Lanka
Despite Sri Lanka's 2016 ratification of the UN Convention on the Rights of Persons with Disabilities (CRPD) to duly improve the rights of its citizens with disabilties, Sri Lankans with disabilities continue to face numerous barriers to equal political and civic participation. These barriers include inaccessible infrastructure in public buildings, lack of accessible technology in classrooms and social and cultural norms that drive stigmatization and negative stereotypes. To address these barriers and empower young people with disabilities as leaders in their communities, the International Foundation for Electoral Systems (IFES) and the Center for Disability Research, Education and Practice (CEDREP) at the University of Colombo implemented IFES' signature Engaging a New Generation for Accessible Governance and Elections (ENGAGE) political leadership course for 18 young Sri Lankans with disabilities from the university.
"This training was very useful for me. This is the first interactive and engaging training program. I learned so much on how to be a leader, how to build self-confidence, public speaking and also the session on the electoral cycle was very interesting. The training also was very accommodating for all the students who had various disabilities. We thank the organizers for giving us this incredible opportunity." - Ashane Dilranga, Young Leader
Through the ENGAGE training, participants learned about human rights, disability rights and elections' legal frameworks and built their skills in public speaking, team-building and problem-solving. ENGAGE's interactive teaching methodology also encouraged young Sri Lankans to serve as leaders and engage community stakeholders and decision-makers.
During the training, participants networked with civil society organizations (CSOs), visited the Election Commission of Sri Lanka (ECSL) and took part in a mock election to increase their knowledge on the electoral process in Sri Lanka. After the conclusion of the training, some participants even continued their learning through internships at the ECSL, with CSOs they had networked with during the course and with non-profit organizations, such as IFES. To continue advancing young people with disabilities' equal political and civic participation in Sri Lanka, IFES will also recruit new ENGAGE cohorts for future semesters.
The IFES ENGAGE certificate course is made possible by the support of the American people through the United States Agency for International Development (USAID). The contents are the sole responsibility of IFES and do not necessarily reflect the views of USAID or the United States Government.
Published July 6, 2022.