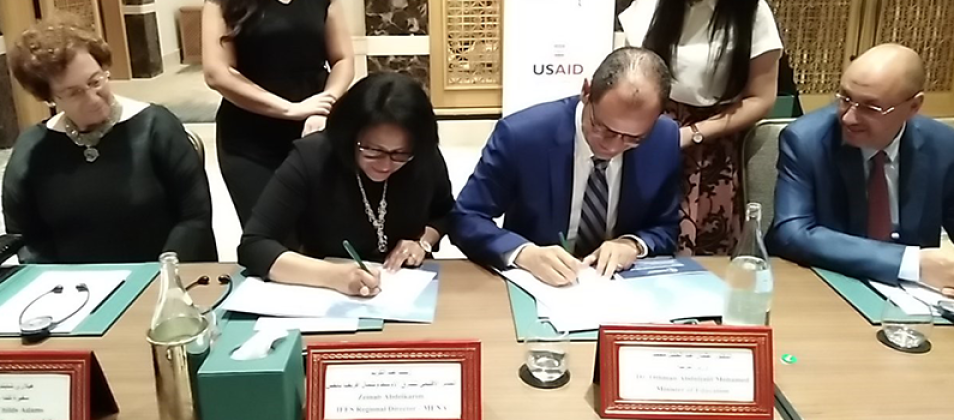 Partnership with Libyan Ministry of Education to Promote Civic Education in Public Schools
On August 4, 2018, the International Foundation for Electoral Systems (IFES) and the Libyan Ministry of Education (MoE) celebrated the signing of a Memorandum of Understanding (MoU) aimed at underpinning future cooperation in Libya. The MoU is the latest culmination of a fruitful cooperation between IFES and the MoE toward developing and introducing a broad curriculum of civic education in public schools in Libya. IFES' work with the MoE on curriculum development is funded by the United States Agency for International Development (USAID).
The MoU lays the foundation for expanding collaboration in curriculum development, teacher training, and strategic and operational planning – including developing new civic education curricula for various age groups, elaborating on topics covered, as well as collaborating with higher learning institutions such as the University of Tripoli. The overarching aim of the collaboration is to teach new generations of Libyans the importance of political participation and civic awareness, and to underpin a transfer of civic education material from schools to households across Libya.
IFES' activities with the MoE in Libya will focus on achieving long term goals related to the professional development and training of teachers and MoE staff, improving the technical capacity of the MoE to develop curricula and material, and the mainstreaming of a civic education in curricula used by the MoE.
During the ceremony in Tunis, the MoU was signed by Libyan Minister of Education Dr. Othman Abduljalil Mohamed and IFES Regional Director for the Middle East and North Africa Zeinab Abdelkarim. The signing ceremony was also attended by the Canadian Ambassador to Libya Hilary Childs-Adams, the Libyan Ambassador to Tunisia Mohamed El Maaloul, USAID's Acting Senior Development Advisor Mark Parkison, and the Head of the Libyan Civil Society Commission in Tripoli Dr. Jamal Adas.